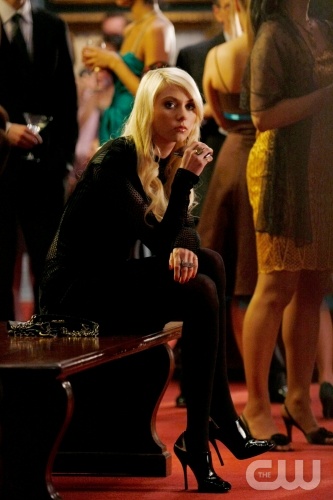 Despite being grounded, Jenny continues to see Damien, who tells Jenny that he wants to have sex with her. Lily tells Rufus the big secret she has been keeping from him even though she knows it's a huge risk. Dan and Vanessa explore a new stage of their friendship. Chuck is forced to make an extremely difficult decision about his hotel.
Rihanna - Rockstar 101
Jenny turns down Rufus' offer of breakfast then phones for a car to take her to Damien's hotel; repeats as Serena receives
Rufus' text after she & Nate have sex.
Air - So Light Is Her Football
Damien & Jenny make out, then discuss having sex.
Bill Medley & Jennifer Warnes - (I've
Had) The Time Of My Life
Rufus walk into Jenny's room as she watches 'Dirty Dancing'; repeats as Jenny listens to music after telling Serena she had sex with Damien.
OneRepublic - Good Life
Serena & Lily talk at Chuck's party; people whisper as Chuck enters the room & joins Lily; Nate & Serena discuss her past reputation & Jenny's situation; Rufus confronts Jack; Dan & Jenny talk.
Far East Movement - I Party (DJ Wool Big Mix 1)
Vanessa arrives at the party & chats with Dan.
KiD A - Trampled Youth
Jenny tells Nate about Damien dealing drugs.
The National - Gospel
Dan & Vanessa agree to take their relationship public; Nate & Serena apologize to each other; Blair tells Chuck why they're celebrating.
Download them here