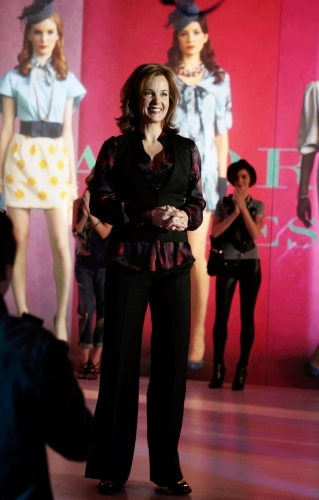 Chuck finds himself once again at odds with his uncle, Jack Bass. Eleanor puts Blair in charge of making sure her latest fashion show is a huge success with an important client. Rufus attempts to get Jenny back on track by volunteering to have her help with Eleanor's fashion show.
Vampire Weekend - Run
Montage of people w
orking on Eleanor's fashion line; Rufus takes Jenny to help with Ele
anor's show.
Danica (The MorningStar) Rozelle - Hide N Seek (a.k.a. Try To Find)
Eleanor greets her guests; Brandeis arrives
with her 'friends'.
Fl
orence And The Machine - Between Two Lungs
Vanessa surprises Dan with a 'Rear
Window' themed dinner; Jenny tries to get the girls organized at the show.
Deadmau5 - Not Exactly
Serena tells Nate the truth about Blair's 'friends'; Nate tells Chuck to get Jack to the fashion show.
Deadmau5 - Hi Friend!
The fashion show starts.
Deadmau5 - FML
Agnes walks the runway; Kali gives Jenny a glass of drugged champagne.
Deadmau5 - I Remember (ft. Kaskade)
Blair confronts Brandeis about Mr. Cornwell, then she subtly blackmails Mr. Cornwell into reconsidering carrying Eleanor's fashion line.
Megha Maan - Go Hard Or Go Home
Agnes drops Jenny off at a bachelor party.
Hollywood Holt - Hollywood
Nate phones Jenny & tells her he's coming to get
her.
Far East Movement - Animal
Nate rescues Jenny.
Scarlett Johansson - Falling Down
Dan & Vanessa kiss; Nate meets up with Serena; Jenny looks at Gossip Girl's blog; Elizabeth tells Jack that she's leaving & starting over; Chuck tells Blair he's not backing down from Jack.
Download them here