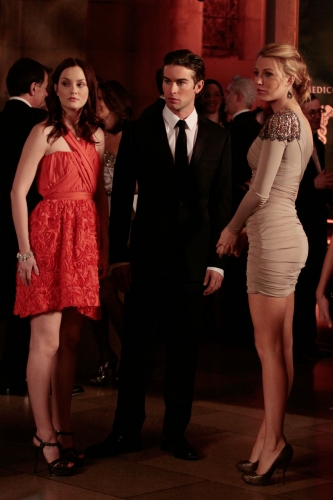 Will's return to the Upper East Side continues to stir up problems for Serena, Lily and his long-standing rival, Rufus. Serena and Jenny's relationship is strained as a result of Jenny's deception. Blair spends time on the Columbia campus and realizes where she truly belong
s. Dan learns that Vanessa has been keeping yet
another secret from h
im.
Scanners - Salvation

Serena & Nate fool around; Dan & Vanessa spend an awkward morning together; repe
ats as Dan confronts Vanessa about the internship in Haiti she applied for; Blair advises
Chuck
he should go see Lily; Hol
land tells Serena about her & Rufus; Serena tells her dad to fight for Lily; Blair warns off the Columbia girls; Jenny calls Chuck about Lily's medicine; Serena intercepts Rufus' phone call as William talks with Lily & Eric
.
Neon Trees - Animal
Dan & Rufus chat on the phone about William & Vanessa.
Last Gang - Forever Young
Blair is confronted by the Columbia girls about lying; Chuck apologizes to Lily & tells her he's there for her; repeats as Serena tells her father about her wild past.
We Are Scientists - Let's See It
Dan confronts Jenny about dealing drugs.
Cold War Kids - Audience
Rufus asks Lily to find another doctor, then he overhears Jenny being confronted by an unhappy drug customer.

Download them here