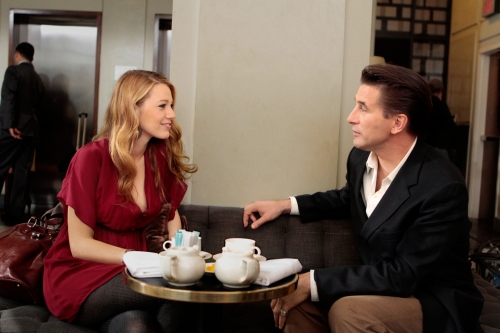 When Lily's ex-husband, Dr. William van der Woodsen, shows up unexpectedly in Manhattan, S
erena finally gets the reunion she has so desperately wanted with her father, but the circumstances turn out to be far from ideal.
When Serena and Nate
continue to have relationship issues, a scheming
Jenny is more than happy to b
e a
should
er for Nate to lean on. Meanwhi
le, Dan finds out that he didn't get accepted into the Tisch writing program and Vanessa admits she may have been somewhat responsible.
Grizzly Bear - Two Weeks
Nate serves Jenny waffles as
they discuss Serena's absen
ce.
Telegraph Canyon - Quiet Assurance
Serena tells Rufus she at least owes her father a conversation; Dan reads his rejection letter to Vanessa prompting her to admit that she g
ot the spot at Tisch.
Two Hours Traffic - Drop Alcohol
Vanessa shows D
an the play she sub
mitted for her Tisch application.
The Phenomenal Handclap Band - Dim The Lights
Blair, Dan & Vanessa arrive at the party, then Nate, Chuck & Jenny follow; Blair chats with Cameron then
spots Chuck; Dan
asks Willa to tell her father a mistake was made; Dan confronts Jenny about her presence at the party.
Holly Miranda - No One Just Is
Serena phones Nate for consolation & ends up confronting
him about spending time with Jenny.
Discovery - Slang Tang
Cameron offers to help Blair make Chuck jealous; Vanessa confronts Dan over
his reaction to her getting into Tisch.
Wait. Think. Fast - Look Alive
Blair tells Chuck she's been trying to get over him the wrong way.
Monsters Are Waiting - HA HA
Jenny tells Nate he deserves someone that treats him better than Serena does, then she tries to kiss him as Serena walks in.
White Rabbits - Percussion Gun
Serena tells Nate that Lily is sick; Blair remembers her time with Ch
uck; Lily thanks Ruf
us for putting up with William's presence; Vanessa deletes Dan's apology message; William phones an associate about a prescription for Lily.

Download them here