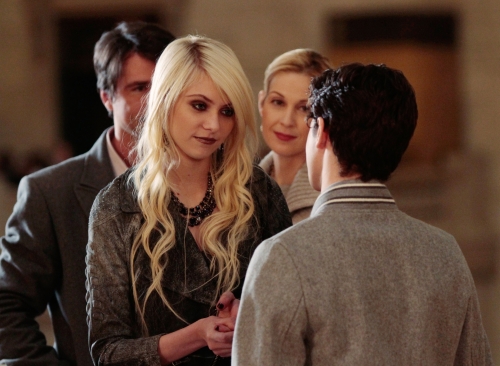 Blair must decide whether to meet Chuck at the top of the Empire State Building or risk losing their future together. A
Gossip Girl
gossip bomb involving Dan causes major problems for Serena and Nate. Georgina Sparks returns to the Upper East Side...and she has an agenda.
Thao - You've Really Got A Hold On Me
Georgina returns; Lily &
Rufus discuss the problems with teenage girls, then Eric tells them they can send Jenny away.
Lights On - Dead Man's Party
The Gossip Girl blast about Serena & Dan spreads; Dan figures out the Jenny must have sent in the picture.
Eastern Conference Champions - Don't Think Twice, It's Alright
Blair rushes to meet Chuck; Nate, Dan & Serena talk about the kiss; Georgina asks Blair for help; Dorota give birth; Nate sends the picture to Vanessa.
Oliver North Boy Choir - Teenage Lust
Jenny goes to bed with Chuck.
Serena Ryder and The Beauties - The Funeral
Jenny confesses to Eric that she slept with Chuck.
Crooked Fingers - Under Pressure
Georgina tells Dan she's pregnant with their child; Jenny takes the train to her mom's; Serena & Blair head for the airport; Nate has some fun with Chuck's girls; Chuck is shot while being mugged.
Download them here