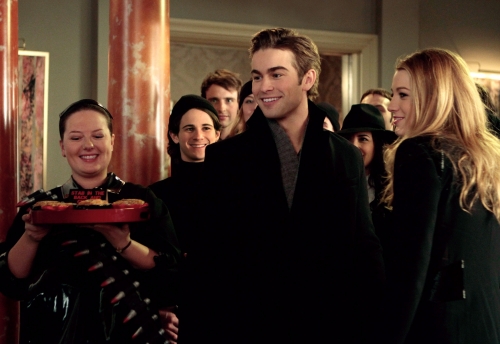 Chuck and Blair are f
aced with the most difficult decision they have ever faced as a couple. Serena plans a surprise birthday party for Nate, but Jenny does her best
to sabotage Serena's efforts. Dan
and Vanessa's new relationship hits a bu
mp in the road.

Fabolous ft. Keri Hilson & Ryan Leslie - Everything, Everyday, Everywhere

Blair & Serena shop for dresses while discussing Chuck's problems
with Jack & the hotel.
Uffie - Pop The Glock
Nate & Jenny have lunch & she surprises him with a birthday parfait.
Bertie Blackman - Heart
Serena worries about Nate's absence; Blair goes to Serena for advice on her Jack dilemma; Eric leaves Jenny a message; Dan discovers that Vanessa lied about reading his script.
The Shoes - Bored
Assassin; Vanya proposes to Dorota.
Hollywood Holt - Caked Up (
Hot Pink Delorean Remix)
Jenny hunts Nate; Dan confronts Vanessa about his script.
Hollywood Holt - Brains
Jenny continues hunting Nate; Serena asks Chuck where Blair is.
Scotland Yard Gospel Choir - Topsy Turvy (coming soon)
Eric tries to find out about the guy he met in the lobby; Dan & Vanessa critique each other's scripts.
The Burned - Make Believe
Blair walks away from Chuck; Nate thanks Serena for the party; Vanessa gets a letter from the Tisch writing program; Eric meets Elliott; Blair breaks down; Chuck has Jack escorted from the hotel.

Download them here